Monk Matcha Latte, Organic instant drink, 30 g
Instant coconut milk with matcha tea and inulin.
Delight your taste buds with an unforgettable milky drink, instant coconut milk with matcha Monk Matcha Latte.
Category

:

Drinks
Weight

:

0.032 kg
A unique, delicious, yet extremely healthy drink between milk and green tea - that's Monk Instant Matcha Latte! A healthier version of the popular coconut milk in its instant form is combined with mild matcha green tea to create an unprecedented drink full of original taste and antioxidants. All in 100% organic quality, completely vegan, without added sugar and any chemicals. Prepare in a few moments from the instant mixture a delicious drink that will delight lovers of coconut milk and other plant milks, as well as fans of green tea and the typical tea taste.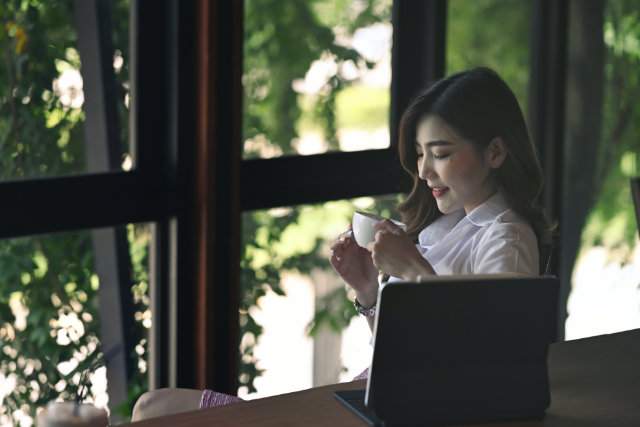 The milk is based only on purely natural ingredients in organic quality, such as organic dried coconut milk, the taste of which is enhanced by matcha green tea powder. This original combination gives the drink so much unmistakable taste, but also a number of antioxidants that help detoxify the body, support immunity and maintain healthy blood sugar levels.
The already interesting combination of coconut milk and matcha is complemented by BIO agave inulin or purely natural probiotic fiber. It also serves as a healthy and delicious natural sweetener, which also has a low calorie value and a high fibre content that makes you feel full.
In addition, Monk Instant Matcha Latte is completely vegan, so it will be appreciated by vegans and vegetarians, and its zero added sugar content makes it suitable for weight loss and slim line maintenance, where it won't interfere with any diet plans. But it is also perfect for active athletes, who can not only replenish fluids after exercise, but also provide the necessary nutrition for the body as a whole and for muscle mass. And it should definitely not be missed by fans of a balanced diet and healthy lifestyle. 100% organic, chemical-free and gluten-free.
MONK'S RECIPE BOOK
Preparation: Preparing the milk is also easy. Simply pour the contents of a bag of Monk Matcha Latte instant coconut milk into hot water (approximately 80 ml of water) and stir. And delicious Matcha milk, original and unmistakable taste is ready!
To use:
Drink it on its own

For example, to fine-tune your favourite coffee

Smoothie

Puddings

Desserts

Use in place of regular milk and in baking for a healthier form of regular recipes
Did you know that... Matcha tea is made by grinding whole tea leaves very slowly on granite stones?
PRODUCT INFORMATION
NET weight: 30 gr
Ingredients: organic dried coconut milk; 7% organic agave inulin; 3.3% Bio ceremonial matcha tea
Nutritional facts 100 g:
Energy 2301 kJ / 573 kcal
Fat 37 g of which saturated 34 g

Carbohydrates 48 g

Fibre 9 g

Protein 4,6 g

Salt 0,15 g

Kofein 80 mg
Storage: Store in a dry place in a resealable container.
Manufacturer: KREŽ, s.r.o., SNP 89/175, 061 01 Spišská Stará Ves, Slovenská republika